2018 Honda Civic Type R – Charged Hatchback Already Debuted in Geneva
Since Honda has presented the prototype of its Civic Type R at the 2016 Paris Motor Show people in North America are anxiously waiting for its release date. The unscheduled unveiling of its 2 leaked images online on a British website Autocar has increased the hope of the release of 2018 Honda Civic Type R in near future.
Though source of these images is not known still they are considered to be authentic as the car in these images looks similar to the car displayed at the Motor Show in Paris. The front on the car that is expected to hit US car market by the start of 2018 includes features like air intakes and huge fenders to give it an extremely aggressive look. Like the feature of previous versions of Type R cars this new version is also expected to have carbon-fibre details diffuser, three exhaust pipes and rear large wing.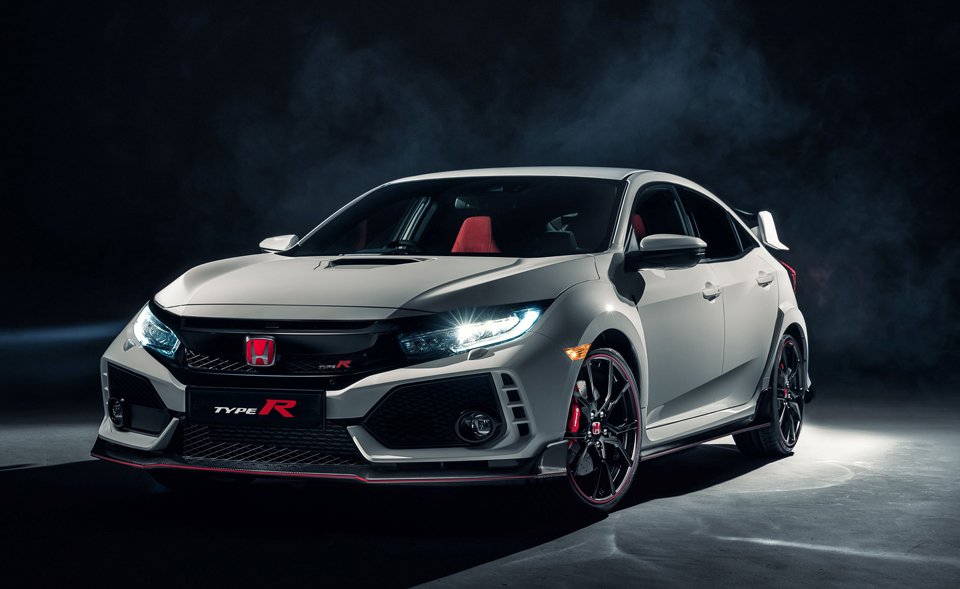 Though any official information about the new version of Type R car is not available till date still 2018 Honda Civic Type R is supposed to be the highest performance car manufactured by Japanese Hondo Motor Company under the brand name of Honda Civic cars until now. Main features of this car can be its stiffened but lightened body, upgraded chassis and brakes and specially tuned engine. In order to give a distinctive sporting and different look to this car from other models of Honda cars its interior is also made red in color like its exterior.
Though most Honda enthusiasts are aware of such tactics but what most of them may rarely know is that Honda is trying to introduce this Type R car in US market as a passport to its entry to the market of performance cars which was necessary for Honda after it has discontinued the production of S2000 cars nearly six years back. It may be able to revive the credibility of its brand among its enthusiast by bringing this edition of Type R car in a very excited manner instead of a traditional and boring way.
Exterior design
According to the auto market rumors and other unofficial information the exterior of the 10th generation car of Civic family, 2018 Honda Civic Type R car, is expected to have a look like a hatchback car instead of its traditional two-door coupe and four door sedan style bodies. In fact Honda is trying this one car to attack on its competitors like Subaru WRX STI, Volkswagen Golf R and Ford Focus RS in some of the popular markets. The exterior of this car can have some things similar to its predecessors but some of its features like dual lip spoilers, front fender vents, rear spoiler and side skirt, front and back lighting and air curtains on front bumper have been upgraded to some extent.
Some of its features which you may expect to experience for the first time in Type R cars may include a more aggressive posture along with tips of triple exhaust pipes mounted at the rear bumper. Its 19 inch measuring wheels will be a bit bigger than its previous versions. Each of these wheels is expected to contain brake clips from Brembo which may encourage you to expect 13.7 inch discs and 4 piston calipers at the front in its final version.
Interior design of 2018 TYPE R
Though the interior of this 10th generation Type R car is expected to look like the new generation card of Civic model but to make it easily recognizable it may be provided red color along with lots of other features like good driving position and sporty bucket seats with rounded inserts of aluminum and carbon fibre to provide equal amount of comfort and safety to the users.
The digital read-out can be one of the features in this new Type R car which can be new for US automobile market. This feature was first of all used by Honda in its 2015 model and now it is using in this new model after toning it down. Along with these there can be features like a large touchscreen console at the centre, spate display for heating system and a bunch of dials that can be found in this car. This performance vehicle is expected to be packed with all of these well rounded up features to attract the Americans eagerly waiting for its release.
Engine and specs of 2018 HONDA CIVIC TYPE R
2018 Honda Civic Type R car is expected to be fitted with a popular 4 cylinder 2.0 L engine with turbo-charging, Vtec variable valve timing and direct fuel injection system. This engine may produce maximum torque of 295 lb-ft and power up to 306 hp which was also found in the Type R cars sold recently in the overseas markets. All of these power features can also be expected to be delivered through six speed manual transmission to its front wheel drive version.
The new Dual Axis Strut Front Suspension and adaptive dampers used all around in this car may suppress its torque steer. There can be many enhancements in the interior of its body to help in producing and handling more downforce. Though it is alleged to have lesser fuel consumption but most of its drives may not worry about it as they will be surprised to experience the comfort it provides on the local tracks after pressing its pedals once.
Price and release date of 2018 HONDA CIVIC
Though no official announcement has been made so far about the release date of 2018 Honda Civic Type R car already debuted at the March Geneva Auto Show. The release of this Japanese car manufactured in UK in US market is expected to be by the spring in 2018. Like its release date no authentic information about the price of this type R car is available till date. Still the range of its prices can be expected to vary between $32,000 and $39,000 depending upon the quality and number of its features.
Thus 2018 Honda Civic Type R car can be improved version of the previous models in this series. It is expected to be an actual high performance car from Japanese Motor Company, Honda. The features provided in this car can be among the genuine reasons for the North Americans to wait for its release.