The Adventurous Jeep Models Lineup
Many people out there are in search for one car that can take up all the road trip desires and put them in one place. Jeep has always been a very popular vehicle to buy. It was first introduced about 75 years ago. The Jeep brand has been indelibly linked to adventure, authenticity, freedom, and passion. Now that Jeep has come out with new models, it is more popular than ever before. It comes with so many great features you won't be able to pass it up. Inspired by European car models, the controls are what makes this vehicle stand out. The brand's consistent commitment to meaningful engineering and strength has helped forge an extraordinary bond between the vehicles and the owners.
The first Jeep was to be produced for the US armed forces that needed a strong, trustworthy car that might be driven in all terrains and all weather conditions. They needed an off-roader that would simply be transported all around the planet and was easy to maintain, so the first Jeep models were the perfect solution for the army wants. The first Jeep produced in big the M715 model that was mainly employed in the Vietnam War.
The civilian models derived from the army automobiles was produced by Jeep in the 1950s and 1960s, so they kept their amazing off-roader capabilities. In truth, for some years, enthusiasts all around the world that wanted a car to get to the highest tops bought the removed sole automobiles ready to deliver such intense performance. Today Jeep sells several models, among which the Cherokee and Grand Cherokee, Wrangler and Wrangler Unlimited, Compass, SRT, and Patriot are the best known.
TheJeep Lineup includes sport utility vehicles that accommodate off-road adventures and daily trips. Jeep has introduced some models over the years. Almost every model has been accepted with great enthusiasm. The Jeep models also come in a wide price range that can fit anyone's budget.
Jeep Patriot
Patriot with a starting price of $17,695 – $25,595, the Patriot is the most affordable Jeep model. The Jeep Patriot is available in Sport, Latitude and Limited editions that offer plenty of features. With a horsepower rating of 158, a 2.0 L engine powers the Patriot. This compact engine block also boasts up to 141 pound-feet of torque.
For more capabilities in Jeep Patriot, an upgrade can be made to the 2.4 L engine that gets up to 172 horsepower and 165 lb.-ft of peak torque. With a highway fuel economy of 30 mpg, the Jeep Patriot is one of the most efficient Sport Utility Vehicles on the market. This compact SUV is powerful enough to tow up to 2,000 pounds. Of course, the Patriot is equipped with Jeep's signature 4×4 wheel drive that can now be enhanced with signature Freedom Drive I or Freedom Drive II packages.
Jeep Compass
Compass with an MSRP of $19,695 – $25,995, the Compass comes in as the second most affordable Jeep model. This model has a crossover SUV design that's inspired by contemporary stylings such as aerodynamic profile and sleek fascia. Double halogen lamps add a new look to the front of this Jeep model. The Jeep Compass comes with the same mechanical capabilities such as those of the Patriot.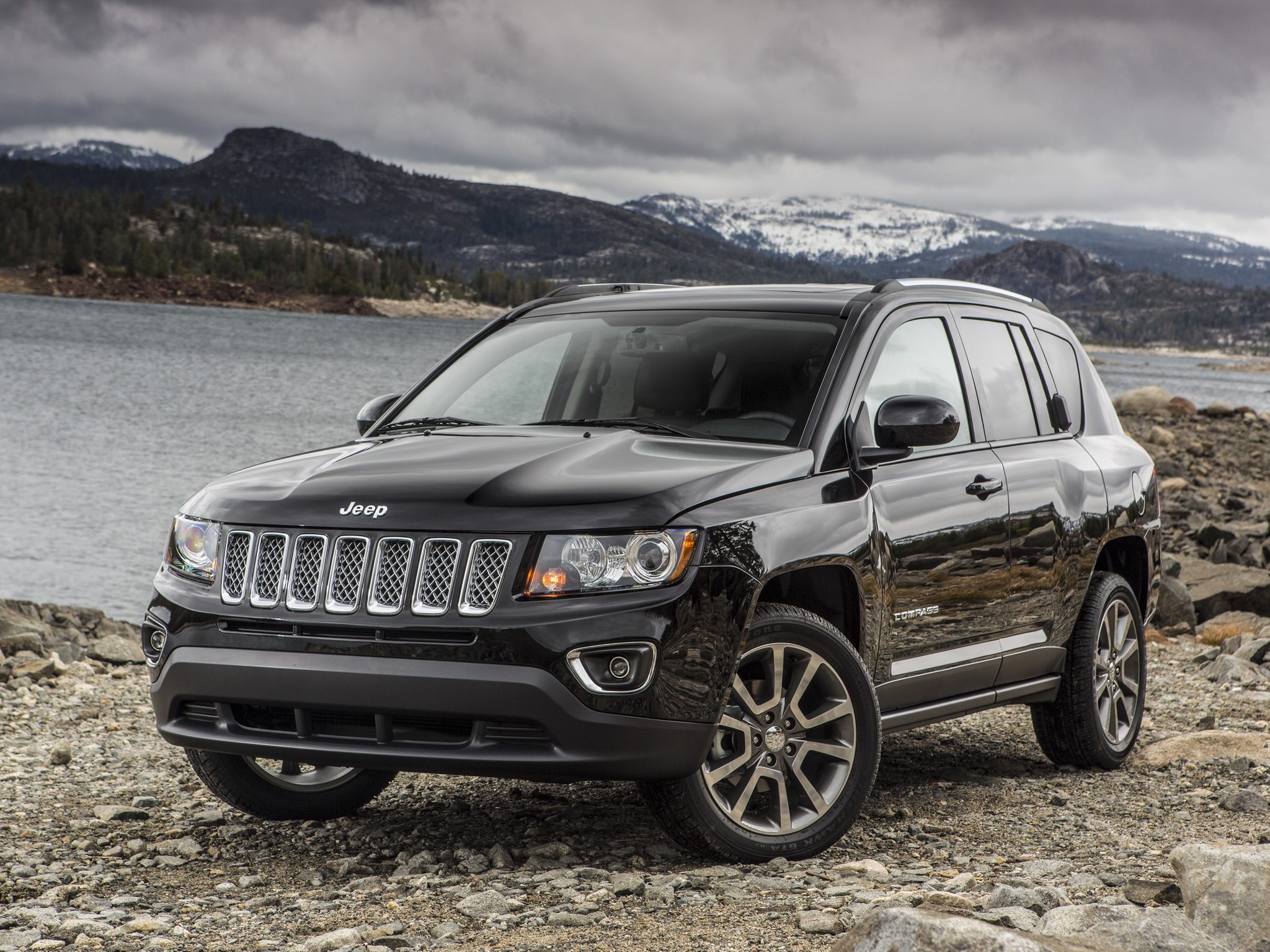 Cherokee
Cherokee and Grand CherokeeThe Jeep Cherokee is offered as mid-size SUV that comes with a bit more premium features than the Compass and Patriot. The Cherokee can be customized with Sport, Latitude, Trailhawk or Limited editions. 18-inch wheels show an improvement compared to the 16-inch wheels in the Compass and Patriot models.
The powertrain options in the Jeep Cherokee include an I4 cylinder 2.4 L Multiair engine or V6 3.2 Liter engine. Jeep Active Drive technology is integrated into the 4×4 packages of the Cherokee model.
Jeep Grand Cherokee
TheJeep Grand Cherokee is designed as a luxurious full-size SUV. 20-inch satin wheels give this model an edge over the 16 and 18-inch wheels of more affordable Jeep models. The starting price for the Grand Cherokee Laredo base trim is $29,995 – $65,695. Upgrades can be made to other editions like the Laredo E, Limited, Overland or Summit.
Three engine options in the Jeep Grand Cherokee offer incredible performance and power. The 3.0 L EcoDiesel engine delivers 240 horsepower while the Pentastar 3.6 L engine gets up to 290 hp. For the ultimate power, the 5.7 Liter V8 engine can be chosen to get up to 360 hp. A best in class highway fuel economy of 30 mpg is also available with the Jeep Grand Cherokee. Natural leather seats and open pore wood are some of the premium interior decorations of this expensive Jeep model.
Jeep Wrangler and Wrangler Unlimited
Wrangler and Wrangler UnlimitedThe Jeep Wrangler and 2014 Jeep Wrangler Unlimited are designed as some of the most capable off-road vehicles. Skid plates, tow hooks, and fog lamps are traditional features that make the Wrangler a classic off road SUV. Additionally, a traditional design featuring a rear spare tire is also integrated into the Jeep Wrangler and Wrangler Unlimited. The unique 4×4 drivetrain of these Jeep models includes Command-Trac and Rock-Trac technology for excellent traction on off-road terrains. The Wrangler models are Trail Rated thanks to features such as Hill Descent Control and Sway Bar Disconnect System.
Jeep SRT
SRTThe 2014 Jeep SRT comes in as a special edition SUV that's loaded with luxurious features. An all-new eight speed transmission is paired with a 6.4 L engine that can get an impressive 480 horsepower. Premium leather seats and 8.4 inch touchscreen are some luxurious features in the Jeep SRT, which comes with a MSRP of $63,995.
Conclusion
Nowadays, getting the ideal Jeeps for you may prove to be a hard task to some of us today. Well, the internet is now available and getting the ideal Jeep for you is simple and your dream Jeep may be just a click away. You can also visit websites like this to find out a lot about some of the most latest Jeep models that are on offer today. The jeep comes in various models and also in different specifications, so you need to be well familiar with Jeep models for you to select the ideal Jeep for you. All you need is to do some research on the website, and you will be on your way to owning the best cars in the off-road business.