2017 Volkswagen Tiguan – Sporty Appearance
2017 Volkswagen Tiguan
The exterior of the 2017 Volkswagen Tiguan was significantly updated with sharper edges, an entirely new front, different lights and increased side windows in the rear quarter pillar. In general, the shape remained recognisable, but received a more modern and sporty appearance.
The 2017 Volkswagen Tiguan looks more updated with an optional R-Line package that includes an aggressive front bumper, an enlarged rear spoiler, chrome trims on the front wings and 19 or 20 inches wheels.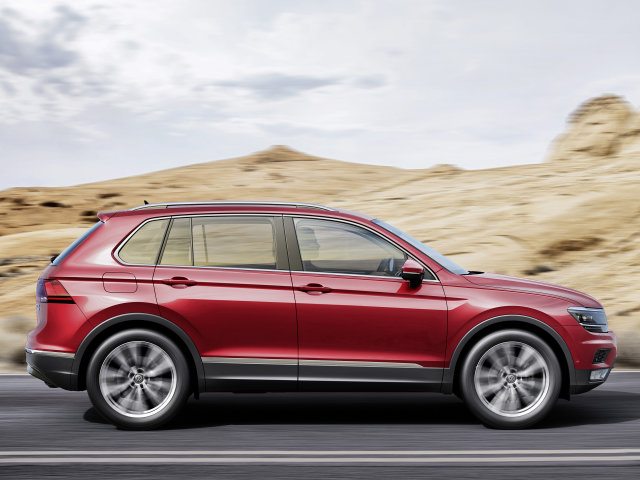 2017 Volkswagen Tiguan Interior
The interior of 2017 Volkswagen Tiguan was also noticeably changed. The front panel and center console, which is now slightly turned towards the driver are executed in the Volkswagen Golf 7 style. The crossover also came with a steering wheel and instrument panel (can be completely digital as in Passat B8 for a fee), advanced finishing materials, modern security systems and new multimedia system with Apple CarPlay and Android Auto capability.
A small increase in the dimensions made the interior room more spacious. The rear bench seat can be adjusted up to 180mm longitudinally. So when the rear seat bench is pushed back, cargo capacity varies from 520 to 615 liters, but it can reach 615 liters if the seats are pulled forward, and 1,615 liters if they are folded.
As the previous car, the new 2017 Tiguan has received a wide range of petrol and diesel power units with capacity of 1.2 to 2.0 liters
Traditionally, 2017 Volkswagen Tiguan come in both front- and all-wheel drive variants. The all-wheel drive layout features a new 4MOTION Active Control with advanced features allowing for selectable operating modes. Also, the manufacturer indicates that the crossover can tow a trailer weighing up to 2.5 tons
Moreover, Volkswagen is preparing a 7-seater crossover modification XL (length increased by 200 mm), sports version Tiguan Coupe with a sloping roof, "charged" modification Coupe R and the hybrid Tiguan GTE.